On February 6, 2023, Congrès Inc carried out an experiential Workation at Congrès Square Haneda located near Haneda Airport, for employees who usually work at offices in Congrès' Tokyo Headquarters.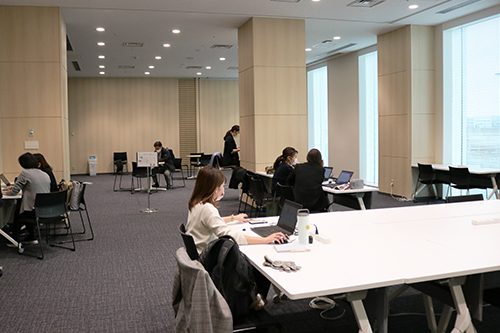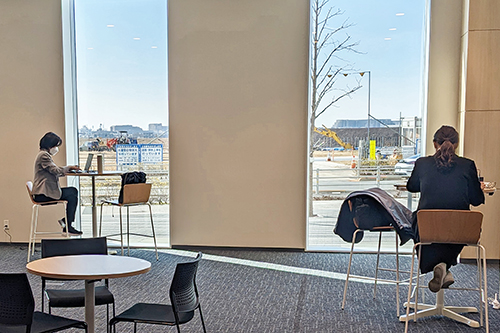 On the same day, Congrès' Tokyo Headquarters' employees and members from our convention facility "Congrès Square Haneda" participated in a beautification campaign held by Congrès to clean up the Haneda area. Please click "here" for details.
Coordinated with the clean-up event, the Workation was planned with the following objectives; "We want members to feel that they could casually participate in the clean-up campaign" and "spend the work day with a new, fresh perspective in the Haneda Airport area, a place they may not normally have the opportunity to visit."
Work spaces were arranged in Congrès Square Haneda's expansive lounge that features floor-to-ceiling windows, offering a feeling of openness. This experiential activity was implemented based on the concept that customers/visitors could utilize the work spaces. Employing the "Smart Lock" system, users can make bookings for the work spaces and also unlock the door to the work space upon arrival, via their devices including smartphones.
The employees who took part in the experiential Workation expressed; "Being able to work in this space with such an open feeling was truly a new experience – the views are totally different from my office in central Tokyo;" "The big windows and extensive space boosted my energy and mindset!" "The environment here was really conducive to concentration," and more.
In Japan, the Keidanren (Japan Business Federation) is participating in projects to promote workations in Japan as a part of efforts to diversity work styles. Keidanren has published a guide geared for corporations on key points for introduction of workation and a booklet of "Case studies of Workation-related Products & Services," which includes Congrès Square Haneda's proposal for workation products/services.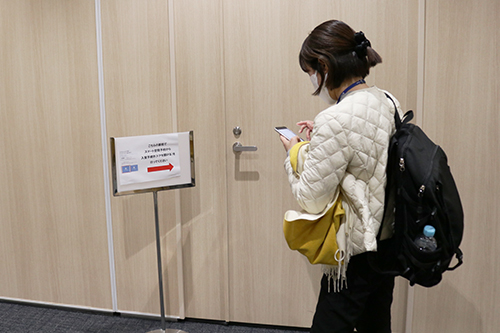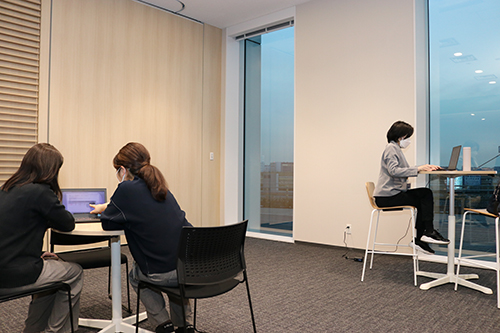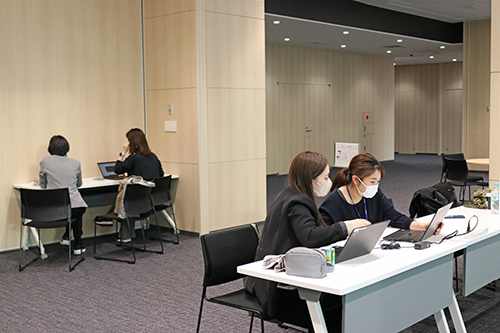 As part of the experiential Workation, employees also had the opportunity to inspect "Haneda Innovation City," the large multi-purpose complex where Congrès Square Haneda is located, to get a feel for what actual visitors would experience. At the complex, nicknamed "HICity," visitors can enjoy "AI_SCAPE," a restaurant where robots serve as both chefs and waiters, and the "Foot Spa & Sky Deck" where one can enjoy watching jets take off and land at Haneda Airport while dipping one's feet in a hot spring! All in all, the day away proved to be refreshing for the employees in many ways.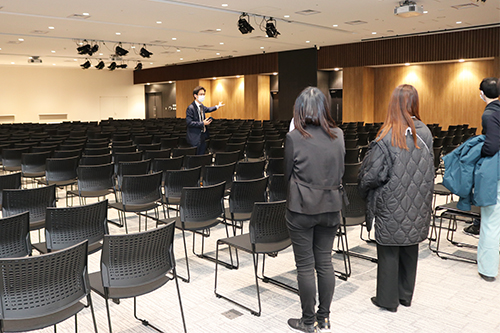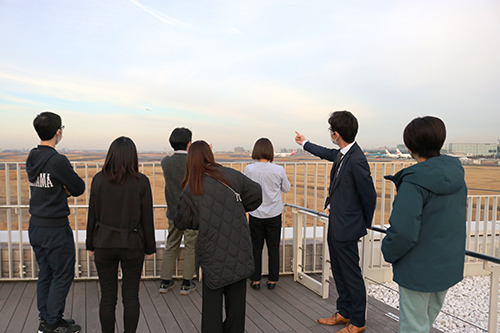 Workations expand work style options and are said to be effective in helping employees feel refreshed and energized through working in environments that are different from a normal office. Furthermore, as Keidanren advocates, offering diverse work style options can enhance opportunities for active participation of more people in the nation's workforce whose lifestyles may not fit conventional patterns, while in tandem revitalizing regional communities and enhancing the overall sustainability of society.