On December 5, 2019, Congress Corporation's Hirokazu Tanaka, Corporate Executive Officer, gave a presentation on how SDGs are being tackled in Japan's MICE industry at the Korean MICE Awards & Conference 2019 held in Suwon, South Korea.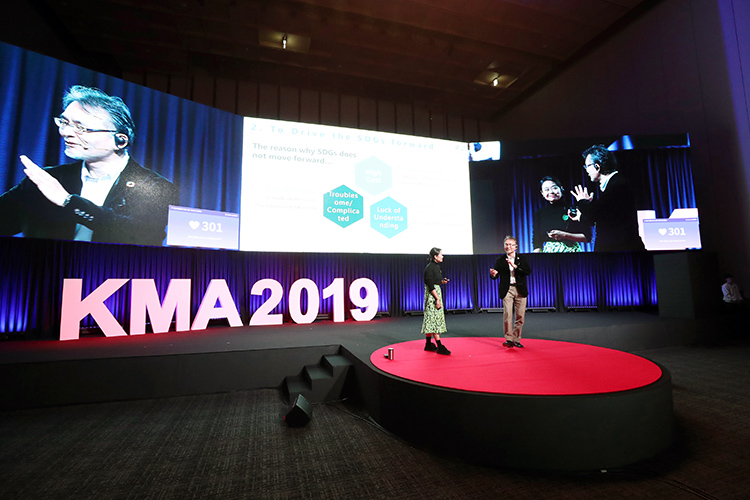 The venue for this year's Korean MICE Awards & Conference was the Suwon Convention Center that just opened this spring. The event was hosted by the Korean Tourism Organization for the purpose of promoting networking, through the MICE Award Ceremony and accompanying conference program. A total of 300 MICE industry professionals attended, including speakers from abroad.
Congress Corporation was nominated as speaker this time by our BESETO Alliance*1 partner in Korea, and contributed this presentation on SDG activities in MICE as the representative of Japan's MICE industry.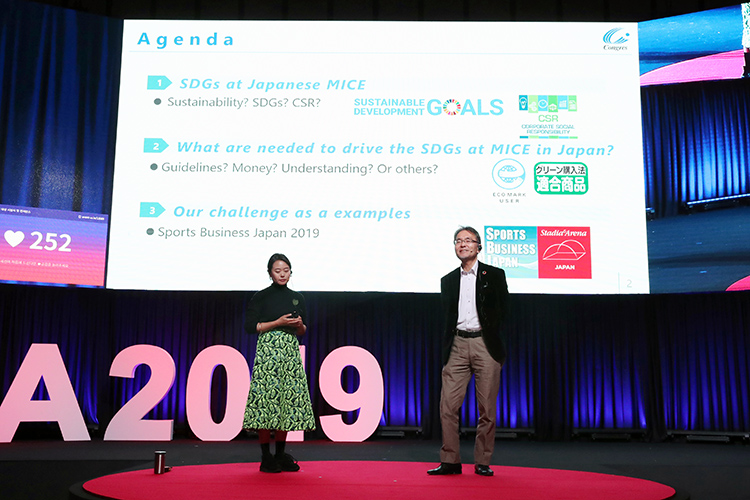 The session we participated in featured simply two speakers, Congress Corporation's Hirokazu Tanaka and Jaimie Moon from World Culture Open (WCO).
WCO is a non-profit organization that strives to encourage diverse and un-biased cross-cultural communication, and aims to solve issues facing society through creative ideas and practices along with events.
On the stage, the two presenters discussed how the MICE players in Korea and Japan are tackling SDGs and sustainability, in a collaborative dialogue style.
Tanaka introduced, as a case study, the various types of activities/programs deployed in "Sports x SDGS" at "Sports Business Japan 2019 together with Stadia & Arena 2019," organized by Congress Corporation.
Moon and Tanaka shared their views on how MICE professionals can and should contribute to the efforts to solve issues in society today, and the importance of continuity in tackling these activities.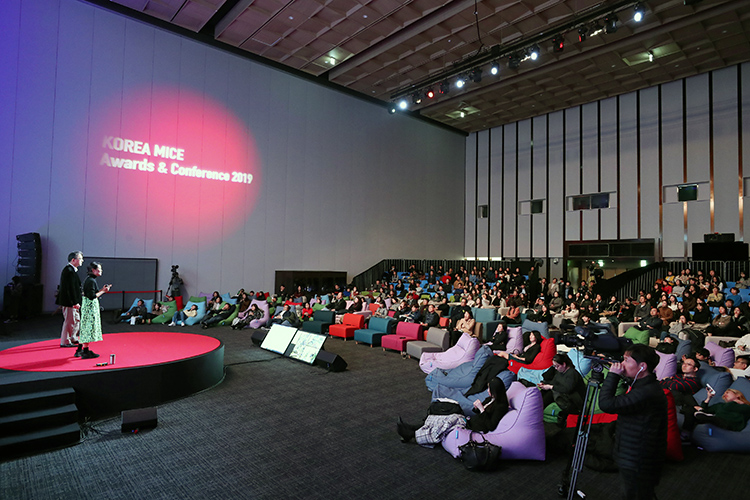 Throughout the world, people are proactively working to solve the various issues facing society.
Congress Corporation is committed to continuing to tackle activities toward achieving the SDGs, in our capacity as MICE professionals.
*1 BESETO is an alliance formed by 3 companies of repute in the MICE business in their respective markets, China, Korea and Japan: Ez pmp (Korea, Kwangman HWANG / President and CEO), Bravolinks (China, Junhua GUO / President) and Congress Corporation (Japan, Noriko Takeuchi / President and CEO).
For more information on BESETO.→Please click here to read the related Congress Corp. news release.