apan Fashion Fair in Beijing 2009 – CHIC
The "Japan Pavilion" design produced by Congress Corporation for the "Japan Fashion Fair in Beijing 2009 – CHIC" was selected as a winning entry in the Japan Display Design Association's "Display Design Awards 2009", an annual competition that aims to discover new design artists in the area of display and enhance as well as expand the range of design activities, evaluating works both in Japan and abroad.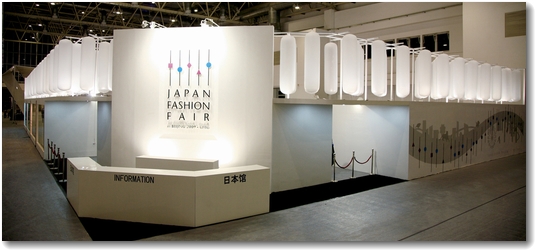 Click here for more photos (PDF 395KB)
Congress Corporation not only headed the design production for this fair-within-a-fair at the China International Clothing and Accessories Fair (CHIC 2009) held in Beijing at the New China International Exhibition Center (NCIEC) from March 26-29, 2009, but was also in charge of the total operation of the pavilion, working closely with the organizers from the planning and design conception stage, then implementing various PR, advertisements and other advance promotion, through to on-site operation in Beijing.
Inside this large-scale pavilion, with a total area of 1,011 sq meters, numerous Japanese fashion houses previewed their upcoming collections. Out of the approximately 100,000 participants at CHIC-2009, 10,000 fashion-related attendees visited the "Japan Fashion Fair in Beijing 2009", reflecting the huge popularity of Japanese fashion.
Design Concept
The design concept centered on the message: "Fashionate (Fashion + Fascinate) People: fascinate people with Japan's fashion". To highlight this message and draw people to the allure of Japanese brands, we adopted a unique design of enveloping the entire pavilion in balloons. Using white as the central color, a stylish image was projected symbolizing "leading edge", "quality" and "originality".
These balloons had no electric bulbs inside! Over 200 balloons, created using advanced technology, reflected the various lighting in the venue, such as lights from below, etc. Emitting a soft luminescence, the balloons expressed various "brands accumulating", "people" and overall, "town".
Another special feature were the 4 show windows on the outside walls displaying hints of the collections inside, nicknamed "Fashion Street". Crowds actually formed in front of the windows, so excited and impressed were the passersby!
Congress Corporation, using its network in Japan as well as in Beijing and Shanghai to the maximum, intends to continue to contribute its expertise actively hereafter in the expanding convention & exhibition market in China.